Description
CERMA ENGINE TREATMENT FOR GASOLINE AUTOMOBILES EQUIPMENT



Cerma STM-3 Engine Treatment is our premier product designed to clean, restore, lubricate, and protect gasoline-powered vehicles and equipment, while also initiating the Cerma process. Its simple one-time application involves adding it to the engine oil of the vehicle.
Cerma Points
Cerma STM-3 offers numerous benefits, including:
Protecting new engines and reviving old ones

Restoring engine and transmission performance

Increasing horsepower and torque

Improving compression

Enhancing fuel economy (4.2% to 21% as tested)

Reducing emission gases (92% as tested)

Eliminating carbon deposits

Preventing hydrogen embrittlement damage

Reducing engine vibration and noise (harmonics)

Resolving cold start problems (tested to -40 deg. Celsius)

Being 100% active ingredient

Being 100% organic

Being fully insured (US and foreign)

Offering a 100% 90-day money-back guarantee
Please note that all information stated above is based on 12 years of real data and not hype or marketing dreams. Cerma guarantees it! Additionally, it is required to state that results may vary.
Cerma's performance claims have been reviewed by the government, and we are proud to be the only engine treatment ever to be ETV Program Verified.
Advanced Lubrication Protection
Unlike traditional engine oil additives, Cerma with STM-3® does more than just coat. It penetrates your engine's internal metal parts to eliminate destructive harmonics, noise, and vibration generated by the engine, while also increasing performance and improving gas mileage.
Cerma simultaneously cleans and protects worn parts by creating a smoother, more durable surface without changing factory tolerances. Cerma STM-3 optimizes performance by reducing friction and wear.
Cerma has spent over 10 years validating every aspect of our treatment and the advanced science associated with Cerma STM-3. The application is simple: Cerma works with our 100% active ingredient, STM-3®, applying a long-lasting Nano Silicon Carbide (SiC) matrix seal within the sub-surfaces of the engine. While you drive, Cerma penetrates the metal surfaces 1 to 6 microns deep and forms this Silicon Carbide (SiC) matrix within the metal, that is lapped to a perfect mating surface on the metal as Cerma is curing within the sub-surfaces of the metal of the running assembly, engine, transmission, or anything that requires lubrication.
By reducing friction and heat, Cerma's Advanced Technology provides similar benefits as traditional lubricants but works in a completely different way. Cerma STM-3 Engine Treatment does not modify the oil in any way. Instead, it modifies the surface structure of the metal to make it act like a ceramic surface. Cerma will create a Silicon Carbide matrix within the metal surface, known for its strength, durability, smoothness, and high heat resistance properties. Silicon Carbide coatings have been used for decades in racing, industry, aviation, and nuclear propulsion. With STM-3®, a ceramic (SiC)-metal coating can now be applied to your engine, transmission, rear axle, or whatever equipment you're treating with one simple application, no special tools, and without disassembly. Cerma with STM-3® provides a huge cost savings, with all the benefits of a ceramic engine. Seal the Steel™ with Cerma STM-3® and enjoy the performance that professional race engine builders trust.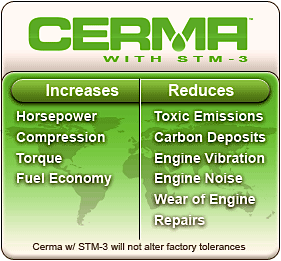 Awesome Product
I have a 2016 Toyota Tundra with 125 K miles. 5.7 v-8 For a while now I have heard a knocking sound coming from top end drivers side of motor.I did some research and thought it could be the cam chain tensioner. It didn't do it all the time, but regularly. I was getting alarmed. I found your products online, and thought if something was sticking maybe your product could free things up. I said wow when I saw the price for 2 oz., but thought maybe it will work. I put it in 600 miles ago, followed the instructions and I haven't heard anything from the engine since. I can't believe it, this stuff is great. Thanks for making this stuff. I will be ordering your oil soon, and them other products too. Thanks again, Don
Amazing results!!
Great product, felt a difference 15-20 minutes after driving it per the instructions. Also tried the manual transmission and differential treatment. Feels like a new powertrain!! Torquey and smooth
have not received the product yet
Works!
After install and then ran almost 1500 miles and the engine noise is 15 decibels quieter. Less friction indeed. Thank you for years of great products on all my vehicles.
Just received it and still driving the 1500 mile period.
Im sure the product is as represented, will let you now.
If you are in a hurry for this product you will need to pay extra for shipping. It took a ridiculous amount of time to receive it. (3 weeks)
My feeling is that for the price of this stuff the shipping needs to be upgraded by the seller.